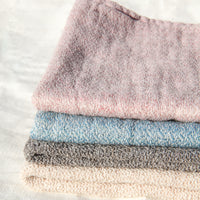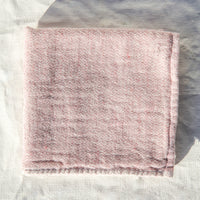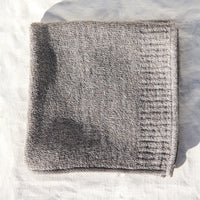 Description
CLAIRE TOWEL (color)

Soft woven towel with terry pile back. The unparalleled softness and beautifully muted colorways of the Claire Towel have made this Morihata collection a bestseller since the very beginning. Woven with cotton and linen, each towel features a smooth, soft front that powerfully absorbs water and dries in seconds. The back is made from organic cotton terry pile to soothe even the most sensitive skin. With an incredibly cozy texture, the Claire Towel hugs your skin like a favorite blanket.
***
LANA TOWEL (grey)
A premium towel with a loose, cashmere-soft weave. Woven on slow Japanese looms, the luxurious Lana towel has a soft, cashmere-like weave that feels like a plush blanket. This towel collection is compact and designed to absorb water in seconds while gently pampering your skin with its delicate cotton threads. With a dark and neutral palette and a sophisticated design, the Lana towel collection bridges the gap between functional modern living and elegant luxury.
Details
CLAIRE TOWEL:
MATERIALS: 98% cotton, 2% linen


DIMENSIONS: 12.5" L x 12.5" W


CARE: Machine wash with cold water and mild detergent. No bleach or fabric softeners. Hang or tumble dry low.


Imabari, Japan

***

LANA TOWEL:
MATERIALS: 100% Cotton

DIMENSIONS: 14.2" L x 14.2" W

CARE: Rinse the cloth with a mild soap and let dry before machine washing with cold water and mild detergent. No bleach or fabric softeners. Hang or tumble dry low.


Imabari, Japan

HOW TO USE
We LOVE using our Claire + Luna Towels in tandem with our Botanical Cleansing Oil. Liberally apply our Cleansing Oil with our Reusable Bamboo Face Pad, then wet the Claire Towel with the hottest water you can tolerate, squeeze then cover face for an immediate steam. Gently wipe away the oil. See how Lulu uses the towel with our Cleansing Oil <a href="https://www.youtube.com/watch?v=awQTeYKpxPw" title="DEMO: Botanical Cleansing Oil" target="_blank">HERE</a>.
Shipping + Returns
All orders are shipped via USPS. If your package is over 16oz it will ship Priority Mail, all others will ship First Class Mail. Domestic packages (US) usually arrive within a week's time though with Covid shipping times have gotten longer. International packages can take up to a month for delivery. If you have not received your package in the stated time please contact us and we will look into it. We will gladly take returns of any unused, unopened or defective product.