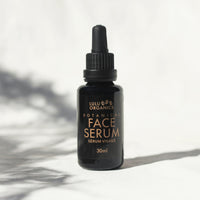 Botanical Face Serum 30ml
Description
Our botanical face serum is made of deeply nutritive oils. It's designed to boost the skin's natural collagen and elasticity while also encouraging the turnover of dead skin cells and helps reduce inflammation, diminish age spots, tighten skin and reduce pores. Olive squalene and jojoba mimic our skin's natural sebum and easily penetrates and softens the skin.
INGREDIENTS
*OLIVE SQUALANE: smoothes and softens skin, similar to skin's natural sebum, boosts elasticity, penetrates the skin easily—great carrier for other ingredients

*CARROT SEED OIL: natural source of vitamin A

*POMEGRANATE SEED OIL: antioxidant, anti-inflammatory, cell regenerative, protects against sun damage

*GRAPESEED OIL: anti-inflammatory, rich in linoleic acid, tones and brightens the skin, diminishes age spots

JOJOBA OIL: nutrient rich, closest to human sebum in nature, reduces inflammation and redness

*APRICOT OIL: rich in fatty acids, vitamins E, A and K, penetrates the skin easily, great for mature skin

*LAVENDER ESSENTIAL OIL: powerful antioxidant, anti-inflammatory, aromatherapeutic, cell regenerative, anti-bacterial

*CLARY SAGE ESSENTIAL OIL: anti-inflammatory, aromatherapeutic

*FRANKINCENSE ESSENTIAL OIL: diminishes age spots, skin tightening, pore reducing, cell regenerative, anti-inflammatory

*GRAPEFRUIT ESSENTIAL OIL: helps treat acne and rosacea, antiseptic

*ROSEMARY ESSENTIAL OIL: intensely nutritive, increases the skin's elasticity and protects skin cells from damage

*BLUE CHAMOMILE ESSENTIAL OIL: calming

VITAMIN E: powerful antioxidant, moisturizing, diminishes scars and age spots

*certified organic, these statements have not been evaluated by the food and drug administration. This product is not meant to diagnose, treat, cure, or prevent any disease.
Details
ONLY TESTED ON HUMAN FACES, VEGAN, FREE OF SYNTHETIC CHEMICALS, FRAGRANCES, PARABENS + GLUTEN
HOW TO USE
Massage 3-5 drops into skin after cleansing and toning. Avoid contact with eyes.
Shipping + Returns
All orders are shipped via USPS. If your package is over 16oz it will ship Priority Mail, all others will ship First Class Mail. Domestic packages (US) usually arrive within a week's time though with Covid shipping times have gotten longer. International packages can take up to a month for delivery. If you have not received your package in the stated time please contact us and we will look into it. We will gladly take returns of any unused, unopened or defective product.