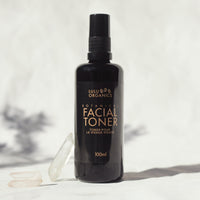 Description
Toning is a vitally important step in any skin care regimen—used after cleansing and before moisturizing. Our botanical toner is a wonderfully natural yet powerful herbal elixir designed to target congested and sensitive skin. This formulation of organic lavender water with witch hazel, aloe, herbs, and essential oils, work together to shrink pores, reduce inflammation, and restore the natural pH of your skin.
INGREDIENTS
*LAVENDER WATER: steam distillation of fresh lavender herb, perfect for combination skin, anti-bacterial, anti-inflammatory

*WITCH HAZEL: anti-inflammatory, natural astringent, tightens pores

*ALOE VERA JUICE: anti-inflammatory, calming

*CALENDULA EXTRACT: natural antioxidant, anti-inflammatory, stimulates collagen production

*COMFREY EXTRACT: anti-inflammatory, potent skin-healing agent, cell regenerative

*BORAGE EXTRACT: anti-inflammatory, rich in essential fatty acids, great for eczema

*BURDOCK EXTRACT: anti-inflammatory

*MARSHMALLOW EXTRACT: combats puffiness

*OATSTRAW EXTRACT: calming

*WILLOWBARK EXTRACT: a natural source of salicylic acid, acts as a gentle exfoliant

*NON-GMO GLYCERINE: an emollient, attracts moisture to the skin making it moist, soft, and supple

*LAVENDER ESSENTIAL OIL: powerful antioxidant, anti-inflammatory, aromatherapeutic, cell regenerative, anti-bacterial

*CLARY SAGE ESSENTIAL OIL: anti-inflammatory, aromatherapeutic

*certified organic, these statements have not been evaluated by the food and drug administration. This product is not meant to diagnose, treat, cure, or prevent any disease.
Details
ONLY TESTED ON HUMAN FACES, VEGAN, FREE OF SYNTHETIC CHEMICALS, FRAGRANCES, PARABENS + GLUTEN
HOW TO USE
Spray on face or apply with a soft cotton pad after cleansing to re-balance the skin's pH.
Shipping + Returns
All orders are shipped via USPS. If your package is over 16oz it will ship Priority Mail, all others will ship First Class Mail. Domestic packages (US) usually arrive within a week's time though with Covid shipping times have gotten longer. International packages can take up to a month for delivery. If you have not received your package in the stated time please contact us and we will look into it. We will gladly take returns of any unused, unopened or defective product.