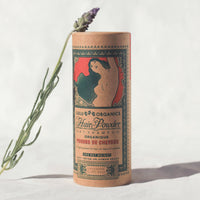 Description
Our famous hair powder. Free of talc, it will soak up oil at the root, give you extra body and leave your hair looking and smelling as fresh as a day one wash.
Available in the following scents: 
LAVENDER + CLARY SAGE — The clean and intoxicating aroma of lavender perfectly partnered with an invigorating clary sage.
JASMINE — The mysterious lady jasmine in full bloom.
PATCHOULI + AMBER — The ever musky patchouli cut with a hint of powdery amber.  (not pictured)
VETIVER & BLACK PEPPER — A woody vetiver layered with dark black pepper & coriander. 
GERANIUM — A fragrant mix of rose and citrus, floral and heady.
ROSE MUSK — A heady Bulgarian rose mixed with musky notes of patchouli, vetiver, sandalwood and cardamom.
UNSCENTED — For those of you who are scent averse!
INGREDIENTS
*organic non-gmo corn starch, white clay, baking soda, *essential oils/ *Certified Organic

FREE OF TALC / BENZENE / PROPANE / BUTANE / ISOBUTANE / ALCOHOL
Details
VEGAN / GLUTEN FREE / HANDMADE / CHILD SAFE
HOW TO USE
Sprinkle a dime size amount of powder into your hands and rub through the roots of your dry hair. Reapply if necessary. Can also be used on the body like body powder.
Shipping + Returns
All orders are shipped via USPS. If your package is over 16oz it will ship Priority Mail, all others will ship First Class Mail. Domestic packages (US) usually arrive within a week's time though with Covid shipping times have gotten longer. International packages can take up to a month for delivery. If you have not received your package in the stated time please contact us and we will look into it. We will gladly take returns of any unused, unopened or defective product.