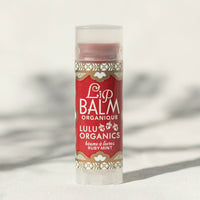 Description
A natural lip balm that is practical and pretty. Moisturizing hemp, olive, jojoba, almond, and coconut oils paired with beautiful essential oil based flavors make for a luxurious lip balm experience. The slender, petite container makes it convenient to carry in your purse or pocket. You won't want to leave home without one.
Available in the following flavors:
RUBY MINT — A cool combination of spearmint & peppermint oils with a touch of ruby color.
CARDAMOM — A heady and exotic cardamom is subtly paired with peppermint and a hint of tangerine.
INGREDIENTS
*organic hemp oil, *organic olive oil, *organic jojoba oil, *organic almond oil, *organic coconut oil, beeswax, *organic essential oils *organic alkanet root, *organic beet root / *Certified Organic
Details
PETROLEUM & PARABEN FREE / GLUTEN FREE / HANDMADE / CHILD SAFE
HOW TO USE
Apply to chapped lips as needed.
Shipping + Returns
All orders are shipped via USPS. If your package is over 16oz it will ship Priority Mail, all others will ship First Class Mail. Domestic packages (US) usually arrive within a week's time though with Covid shipping times have gotten longer. International packages can take up to a month for delivery. If you have not received your package in the stated time please contact us and we will look into it. We will gladly take returns of any unused, unopened or defective product.