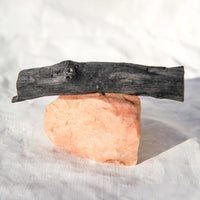 Morihata Binchotan Charcoal, 4 Sticks
Description
Beautiful skin starts with good hydration. Here at Lulu, we try to drink lots of clean water throughout the day. You can easily turn your tap water into a crisp, clean beverage with Morihata Binchotan Charcoal Sticks. No plastic, no waste—just a natural water purifier that ends up in your garden instead of a landfill.
Powerful purification. Kishu Binchotan in its purest form. 
Binchotan charcoal is regarded as the purest and most effective type of activated charcoal and is revered for its purifying ability. These sticks are made from 100% ubame oak and are exactly as they were when removed from the ancient kilns in which they are made. The high temperatures firing and short cooling times—done by dousing the new charcoal with ash—result in beautiful, glass-like branches of binchotan.
When simply added to a carafe of water, the thousands of microscopic cavities left in the wood effortlessly remove unwanted toxins and impurities, while softening and improving water's taste. Completely natural, the sticks are great for the garden and can be broken up and disposed of in soil once they start to diminish in efficacy (about 3 months). 
Details
MATERIALS: Charcoal made from ubame oak


DIMENSIONS: Available in 2-stick and 4-stick bags. Each bag includes an assortment of charcoal pieces of roughly the same size, typically about 5" long and 1" wide.


CARE: Please note that this charcoal cannot be used for grilling or burning of any kind.


Wakayama, Japan
HOW TO USE
Simply place charcoal in a large vessel of water to purify. Such as a pitcher.
Shipping + Returns
All orders are shipped via USPS. If your package is over 16oz it will ship Priority Mail, all others will ship First Class Mail. Domestic packages (US) usually arrive within a week's time though with Covid shipping times have gotten longer. International packages can take up to a month for delivery. If you have not received your package in the stated time please contact us and we will look into it. We will gladly take returns of any unused, unopened or defective product.